Music Stores That Suck
Sam Ash Music

---
---

Letter to Sam Ash sent with the parcel
June 17, 1999
D + 43 days
O + 276 days


---

Receipt for sending back rims and hoops
June 18, 1999
D + 44 days
O + 277 days



I paid 330FF = ~$52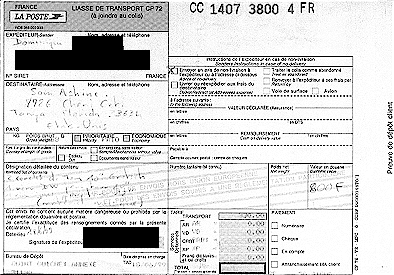 ---

Email to Sam Ash
August 12, 1999
D + 99 days
O + 332 days

From: "Dominique (purposely hidden email here)>
To: <SamAshHQ@aol.com>
Subject:
Date: Thu, 12 Aug 1999 02:05:27 +0200
MIME-Version: 1.0
Content-Type: multipart/alternative;
boundary="----=_NextPart_000_01A5_01BEE467.254CB0E0"
X-Priority: 3
X-MSMail-Priority: Normal
X-Mailer: Microsoft Outlook Express 4.72.3155.0
X-MimeOLE: Produced By Microsoft MimeOLE V4.72.3155.0
This is a multi-part message in MIME format.
------=_NextPart_000_01A5_01BEE467.254CB0E0
Content-Type: text/plain;
charset="iso-8859-1"
Content-Transfer-Encoding: 8bit

Dominique

RA# : RAMT76CW

I've sent you back some items on June 18th, I can understand I have to wait for the Gretsch parts, but I already sent an email asking for the rims to be shipped as soon as possible to no avail (I did not receive any answer)
That is NOT a professional attitude.
I'm now stuck with my old drums that I have to sell because I DO NEED the money but I can't use the new ones because YOU did not send the good parts and YOU don't want to send me the good ones.

---

Fax to Sam Ash
August 31, 1999
D + 118 days
O + 351 days


---


---
---
---
After confirmation of the form use the back button
instead of the link to return to the same page
---